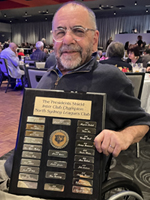 Each year, Norths Leagues Club asks each of their affiliated sports and activities clubs to nominate someone special for their President's Shield - based on their contribution to Norths, their intraclub, their sporting achievements, service to sport or special interest group over the preceding year.
Our club committee nominated David Stern who does so much for us.
David was adjudged the stand-out nominee by our hosts, Norths, and awarded the Shield at the President's Shield dinner last Friday.
Wonderful recognition for David's hard work and dedication.